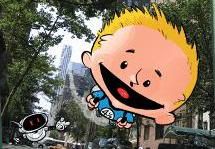 Calvin Who?

For folks wondering if Franklin would be in the newest version of
Power Pack
, the answer is "kind of."
Marc Sumerak
revealed
that Franklin will be showing up in back up features in all the issues of the new
Power Pack
mini as "Franklin Richards: Son of a Genius." Along for the ride, too, will be a throwback to one of the FF cartoon series, as Herbie the robot joins the fray.
Question for the retailers: can you still adjust orders on the first issue of this mini? I mostly wonder because it seems oddly late in the game to be announcing a feature that might serve to bring increased reader interest if retailers aren't actually able to respond to that potential sales increase.
Edit
: I missed this, but Sumerak also mentions that the Franklin back-ups
will only be available in the monthly comics
, not eventual trade collection. Makes my earlier question re: retail orders a little more relevant, I should think.
Tags: comics, hype, power pack