And finally, the true tale which brought national spotlight onto those fascinating members of the "Side Show." This, from widely-read society columnist Alana Danae DeShazer-Opie:
It will shock no one if we say that last night's Follies New Year's Extraordinaire was one of the most highly-anticipated social events of the year. After all, how often is it that New York's elite are treated to entertainment and an opulent reception hosted by those fascinating rising stars (and lest we forget, Siamese Twins) Daisy and Violet Hilton?
What this writer might never have imagined, however, is that the real show would not be the glamorous, sweet-voiced performance by the twins, but at the party itself. There, after the Misses Hilton showed some charmingly quick wits in the face of a bevy of curious inquiries by their guests, all attending were shocked when Violet's rumored paramour, Buddy Foster, took to one knee to propose marriage!
Barely had we time to give the boy a quick congratulations than the clock chimed in the new year. And what a year of excitement we imagine it might be!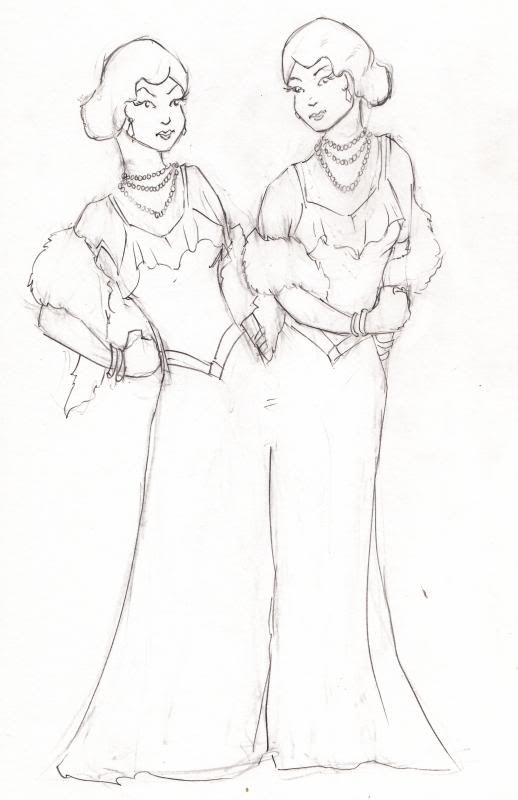 A staff artist attempts to catch the essence of the twins...
Whether it was the champagne or simply the heady news, tongues were definitely wagging as the party wound its way down from the dizzying heights of Mr. Foster's midnight proposal. Exotic heiress Noelia Altamirano nearly swooned over the romanticism of it all. We rather imagine it helped to be swooning on the arm of her escort, shipping magnate J. Saan Ellis. The sultry Leona Collesano found it fairly tired news. Of course, as the fourth fiance of oil baron William Sarazen, we suppose she is entitled to a bit of cynicism as concerns engagement.
Some found the prospect fabulous. Others seemed a bit disturbed by thoughts of how the eventual Mr. and Mrs. Buddy Foster might spend their honeymoon, given the constant presence of the unattached Daisy Hilton.
Still others found the entire affair a bit suspect. When we contacted the Orpheum Circuit for comment, a Mr. Timothy Fitzgerald informed us that Terry Connor--the girls' manager during this stellar rise to fame--had just that day resigned his position with them in order to, as we're told, focus solely on the careers of his conjoined clients.
Curious, is it not, that Mr. Connor might give up steady work to put all his eggs in one basket, as it were? Might it be that he knew about this "surprise proposal" in advance? We sincerely hope this isn't some kind of stunt posed merely for publicity (though if it is, we suppose this very reporter's column today proves it an effective one).
Or might there be another secret at play here? As Violet and Buddy basked in their happy moment, we noticed there seemed to be a bit of mooning to be glimpsed from dear Daisy in the direction of the good Mr. Connor. And though it once again might have been the bubbly, we will report it seemed to us there was something of an obvious connection between the starlet and the manager.
I daresay these girls are two to keep our eyes on. For where one sister goes, the other is sure to follow, yes? Might there, indeed, be a double wedding in their future?
Are wedding bells ringing? And for whom? Learn the secrets of the twins only now through May 5 at The Players Theatre!

Previous entries in the series:
The Fortune Teller
The Cannibal King
In the Blood
If Witches Worked Curses
His Own Boss
A True Lady
In a Foreign Land
By the Sword
For Want of a Canvas